Our own

Rhonda Ziehl

, who magnificently led the

Rhode Island Blue Star Moms

as President from 2015 through 2017 has been named  the first Rhode Island Woman Veteran of the Year- 2018. I would not imagine a better choice.
Rhonda Ziehl is an Air Force veteran who specialized as a bomb dog handler. During her military career, she worked with the Secret Service providing security support to President George W. Bush and Vice President Dan Quayle.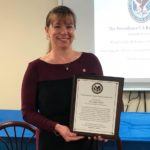 "Woman Veteran  
of
the Year." 
2018
Senior Airman 
Rhonda Ziehl.
Rhonda and her husband Bill Ziehl champion Wreaths Across America at the Rhode Island Veteran's Cemetery
Ziehl is part of a military family: she's married to a fellow Air Force veteran, and her son is also a Veteran  of the United States Air Force having served as Load Master on behalf of the United States of America throughout the World. 
Ziehl is an active member of several local veterans organizations,

Rhode Island Blue Star Moms,

Wreaths Across America Rhode Island and Operation Stand Down's Boots on the Ground committee. She is also a member of  American Legion William Shields Post 43 in 
Warwick.