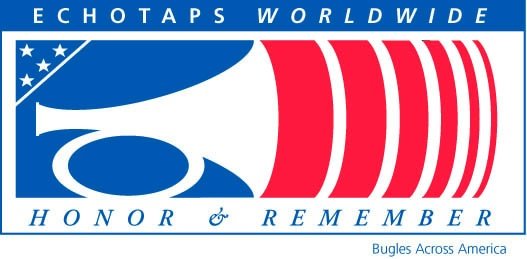 ‎Echo Taps 2019
Rhode Island Veterans Memorial Cemetery
301 South County Trail, Exeter, Rhode Island 02822
ECHO TAPS ACROSS AMERICA
ARMED FORCES DAY MAY 18, 2018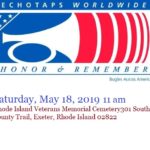 "Rhode Island ECHOTAPS 2019″ (LISTEN HERE)
ARMED FORCES DAY SATURDAY MAY 18th, 2019
SIGN UP IS AT 11 AM, EVENT STARTS AT NOON
Hello all players and volunteers, Well the sun is getting higher and the shadows are getting shorter. I hope you all fared this late winter.This is our 14th consecutive year of Echotaps! Spring is here and that means Armed Forces Day will be upon us shortly. As in previous years, Volunteer brass players and anyone who would like to volunteer for this event are being recruited from around the Rhode Island And Mass. and Ct. areas to perform the 24 notes of"Taps" on Saturday May 18, 2019 in recognition of Armed forces Day. Our state of Rhode Island will participate in this undertaking at the Rhode Island Veterans Cemetery in Exeter.
Place: Rhode Island Veterans Cemetery Exeter, RI Saturday May 18th. 2019 Sign up time : 11:00 AM at this time coffee and
donuts will be served donated by Dunkin Donuts of Post Road North Kingstown Play time 12:00 PM
THIS YEAR 2019 WILL BE A TRI STATE EVENT. Thank you all who participated in 06,07,08, 09, 10, 11,12,13,14,15,16,17,18 and we hope you can all do it again in in 2020
"Each day, America loses about 1,800 of its veterans, primarily those who fought in World War II and Korea, & VIETNAM." "In their honor it is important that our Nation preserves the tradition of a live bugler to play final military honors."
Once again we are inviting all brass players. Tubas, baritones, trombones, French horns, flugelhorns, trumpets and of course bugles. To honor the G bugles we will be sounding "taps" in the key of G. For all Bb instruments that is valves 1&2 or just valve 3 position.
During the event, players will form a line around the WW ll Memorial and perform a cascading version of Taps. After the first assigned player begins "Taps" the player to the right will begin his playing after the third note…………and so on until the last player. Then we will all meet at the center of the WWll Monument and play "Taps" en mass.
I hope to see you all again this year, and hope to see some new faces. So Please mention our event to your fellow brass player musician friends young and old. As we get closer to this years "Echotaps" I will inform all of you who are youngest and oldest players will be. There will be (Dunkin Donuts) coffee and donuts at the sign-in table and refreshments for all after the event. Thank you all so much for your participation in past years and we all hope to continue this wonderful event for many years to come! Please respond to this email via email so we can estimate our attendance this year! Best, Mike Jackson Contacts: Mr. Michael Jackson home 401 782-6133 cell 401-996-1811 Exeter Veterans Memorial Cemetery (401) 268-3088