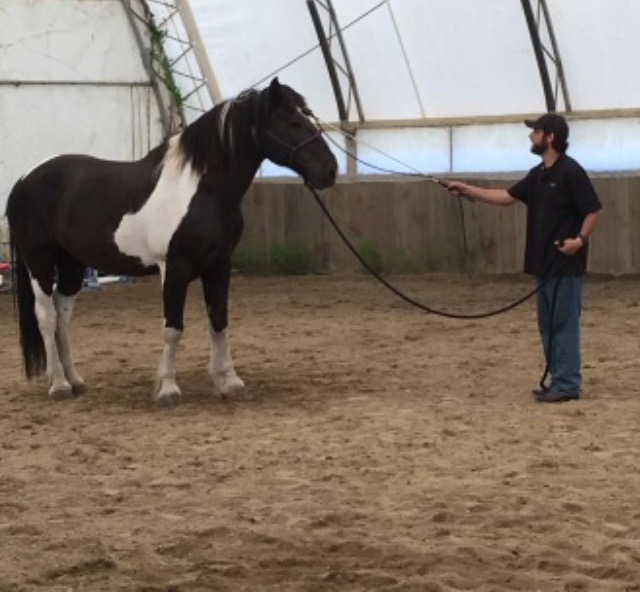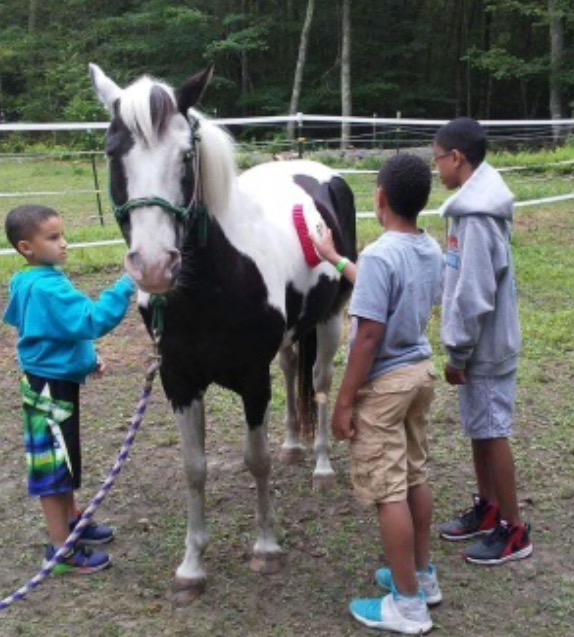 On a comfortable Friday afternoon I had the pleasure of meeting with Karen Dalton at her Dare to Dream Ranch on Snagwood road in Foster, RI.
When you arrive at the ranch you are met by 2 super friendly dogs, Bear and Bella, who wag themselves silly while the 3 goats, Frick, Frack & Frank, are also bleating their hello's. As we walked through the barn with the fresh smell of shavings and hay Karen explained her vision for converting the barn into a woodworking workshop when they build their indoor riding arena with attached barn that would have a loft apartment above for a qualified veteran to stay for free as the caretaker for the property.
We arrived at the first paddock where a gorgeous Percheron/Gypsy Vanner Draft cross named Seargent Xander and his sidekick Corporal Buzz. Xander sometimes is a bit skiddish with his own trust issues. So a slow approach and soft voice is the best approach for making friends with this beautiful huge horse. Next door is Captain Blue, named for his beautiful brilliant blue eye. He is as friendly as Seargent Xander is reserved. He was having fun moving the miniature horses , Freedom and Spirit, out of the way so he could their hay. Spirit enjoyed trying to nibble my hair through the fence while I was petting her and Blue. Hard not to relax and just chat with so much peace surrounding you. We visited the 2 senior, yet still very noble, Arabians names Ishrab and Tabitha.
I had the pleasure of watching Steve Frye, 2x Iraq Combat Vet, not only riding Sgt. Xander, but also learning to train him. Steve only began riding and working with horses 4 months ago! I was impressed to watch Steve's ease of haltering Sgt. Xander in the paddock, saddling him and especially riding him! 4 months is not a long time for someone to learn to ride, build trust with a horse who has trust issues and build your own confidence in the saddle. I was able to watch Steve achieve all of this and with such confidence and pride!
As Karen & I strolled through the wooded paths listening to the quiet we discussed her dreams for future expansion of the facility, the paddocks, the rings and the trails. She shared some of the positive results of Veterans, and their families, who have already visited the Ranch for equine therapy (equine assisted coaching/ground therapy) , yoga, horticulture therapy and nutrition education, woodworking, and fly tying/fishing.
On a quiet, sunny Friday afternoon we both Dared to Dream of our hopes for Veterans and their families who will visit in the future.
Rhonda Ziehl, USAF,
RI Blue Star Moms